credentials and certifications
Engineers by Trade... innovators by choice
Optiforms value-added in-house capabilities and Design for Manufacturing (DFM) approach are rooted in continuous improvement and maximum efficiency. Dedicated to upholding the highest level of quality and adhering to the highest standards in the industry.
Credentials
ISO 9001:2015 Certified
Optiforms, Inc. is pleased to announce that it has undergone a comprehensive audit by Lloyds Registrar Quality Assurance and successfully achieved ISO9001:2015 registration.
"Achieving registration to ISO 9001 is fundamental to our strategy of continued growth in the Aerospace, Defense, Medical, UV and the Semiconductor industries worldwide. This milestone solidifies the company's core values in relentless pursuit of Quality and Customer Satisfaction." says Kevin Thompson, Optiforms President.
The company's mission is to provide the best product possible for customers seeking the highest levels of performance. We continually advance our technology base providing precision electroformed optics and high-performance optical coatings. We have extended our leadership position by utilizing the latest technology in high-performance optical coatings and became the first in-house source for multi-layer coated electroformed optics.
ITAR Registered
Being ITAR registered means that a company is authorized by the U.S. Department of State to engage in the business of manufacturing, exporting, or providing defense articles or services that are listed on the U.S. Munitions List (USML). This is a legal requirement for any company that deals with such items, and it helps to ensure that U.S. national security and foreign policy objectives are protected.
For Optiforms, being ITAR registered means that it can offer its electroformed optics, deep-dish optical coatings, and infrared imaging components to customers who require them for aerospace and defense applications. It also means that Optiforms must comply with the International Traffic in Arms Regulations (ITAR), which govern the export and temporary import of defense articles and services. This includes restricting access to such items and information to only U.S. persons unless authorized by the Department of State.
Being ITAR registered demonstrates that Optiforms is a responsible and trustworthy partner for customers who demand precise control of light energy for their critical missions. It also shows that Optiforms is committed to quality, performance, and innovation in its products and services.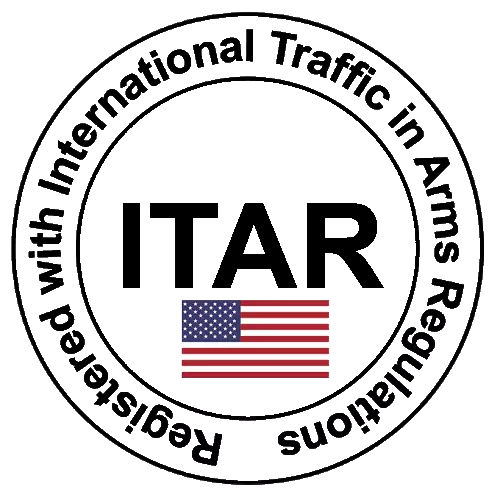 NIST 800-171 Compliant
Being NIST 800:171 compliant means that Optiforms follows the security requirements for protecting Controlled Unclassified Information (CUI) in nonfederal systems and organizations that are established by the National Institute of Standards and Technology (NIST). CUI is any information that is not classified but requires safeguarding or dissemination controls, such as health records, financial data, or intellectual property.
For Optiforms, being NIST 800:171 compliant means we securely handle CUI as part of our contractual obligations. It also means that Optiforms implements several basic and derived requirements specified in the NIST 800:171 publication, such as access control, audit and accountability, media protection, and system and information integrity. These requirements are intended to ensure the confidentiality of CUI and to prevent unauthorized access, disclosure, or loss of such information.
Being NIST 800:171 compliant demonstrates that Optiforms is a reliable and responsible partner for its federal customers who entrust it with sensitive information related to their critical missions and functions. It also shows that Optiforms is committed to excellence, innovation, and continuous improvement in its products and services.