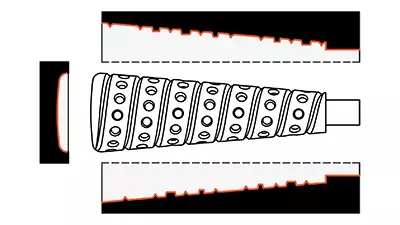 Moulds Diagram
Manifolds consist of a large pipe or channel into which one or more smaller channels lead.
Complex Seamless Structures
Tight Tolerances & Sharp Corners
Accurate Surfaces & "Grown-In" Features
High Purity Low Stress Materials
Optiforms Custom Electroformed Moulds
The electroforming manufacturing method surpasses conventionally produced mould inserts where high-detail, polished surfaces are required, especially inside deep, narrow cavities.
Need a Custom Electroformed Mould?
Custom Dimensions Available
Electroforming Process
The electroforming manufacturing method generates an exact copy via replication in metal (typically nickel) of a master mandrel by a process called electrodeposition. Specific benefits of electroforming are low unit costs, exact atomic scale, repeatability and excellent process control for quality. Often times the design engineer will find electroforming is preferred for many applications requiring a complex true geometric shape form factor, thin walls, and high repeatability.