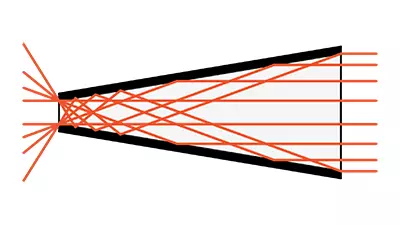 Electroformed Condensers
Electroformed condensers concentrate light from a shallow angle, large area input to a wide angle, small area output.
Optiforms Electroformed Condensers
Electroformed condensers concentrate light from a lamp, LED, or similar light source.
Need a Custom Condenser?
Custom Dimensions Available
Electroforming Process
The electroforming manufacturing method generates an exact copy via replication in metal (typically nickel) of a master mandrel by a process called electrodeposition. Specific benefits of electroforming are low unit costs, exact atomic scale, repeatability and excellent process control for quality. Often times the design engineer will find electroforming is preferred for many applications requiring a complex true geometric shape form factor, thin walls, and high repeatability.